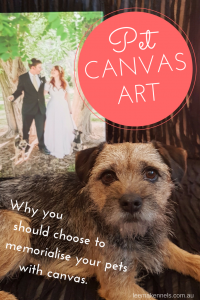 The modern way to display art in homes is by canvas. While in the past, framed images have been the fashion, we no longer want our artwork to displayed in boxes on the wall. We like the infinity of canvas – the way there is no end, as though the whole image could consume the world.
The love of images-on-canvas has extended to our pets, too. Many homes are choosing to cover their homes in not just art, but photos of their beloved pets.
Besides the appealing look, there are other benefits to a canvas too:
Easier to clean – no glass where fingerprints can be laid, no moulding to attempt to dust in nooks and crannies. With canvas, you can gently vacuum, or use a damp cloth.
Easier to transport – no risk of breaking glass, and lighter (and cheaper!) too
Less choice – less choice is easier! Of course you can choose to size of your canvas, but you avoid having to make decisions about frames and matt boards.
More display options – Canvas can be propped up on shelves easily, while heavy frames risk slipping and could result in broken glass. Also, should the fashion ever change back to frames, canvas can be framed in much the way as flat art. No loss!
Cheaper – when you purchase canvas art, you are buying the complete work! No moulding, glass, or hanging guides required, so what you see on check out is what you get.
Recently, I received a canvas from TheCanvasFactory.com.au – an Australian distributor of canvas products. It was super easy to upload an image to the site, and it arrived quickly to my home. However, when it arrived, the image was a little 'off' – it seemed blurry in places. I contacted them and they quickly, and without promptly, sent me a second canvas at no cost. THIS one was great! I now have our wedding photo (including dogs, of course – they came to our wedding for photos) on display in our bedroom.
I would very much recommend TheCanvasFactory.com.au if you are looking for canvas products to adorn your own walls. They have good prices, diverse sizes, and great customer service.