I have always happily reviewed products on this blog, and as a long-time fan of Nature's Gift, I was more than willing to review their new 'Chews' range when given the opportunity.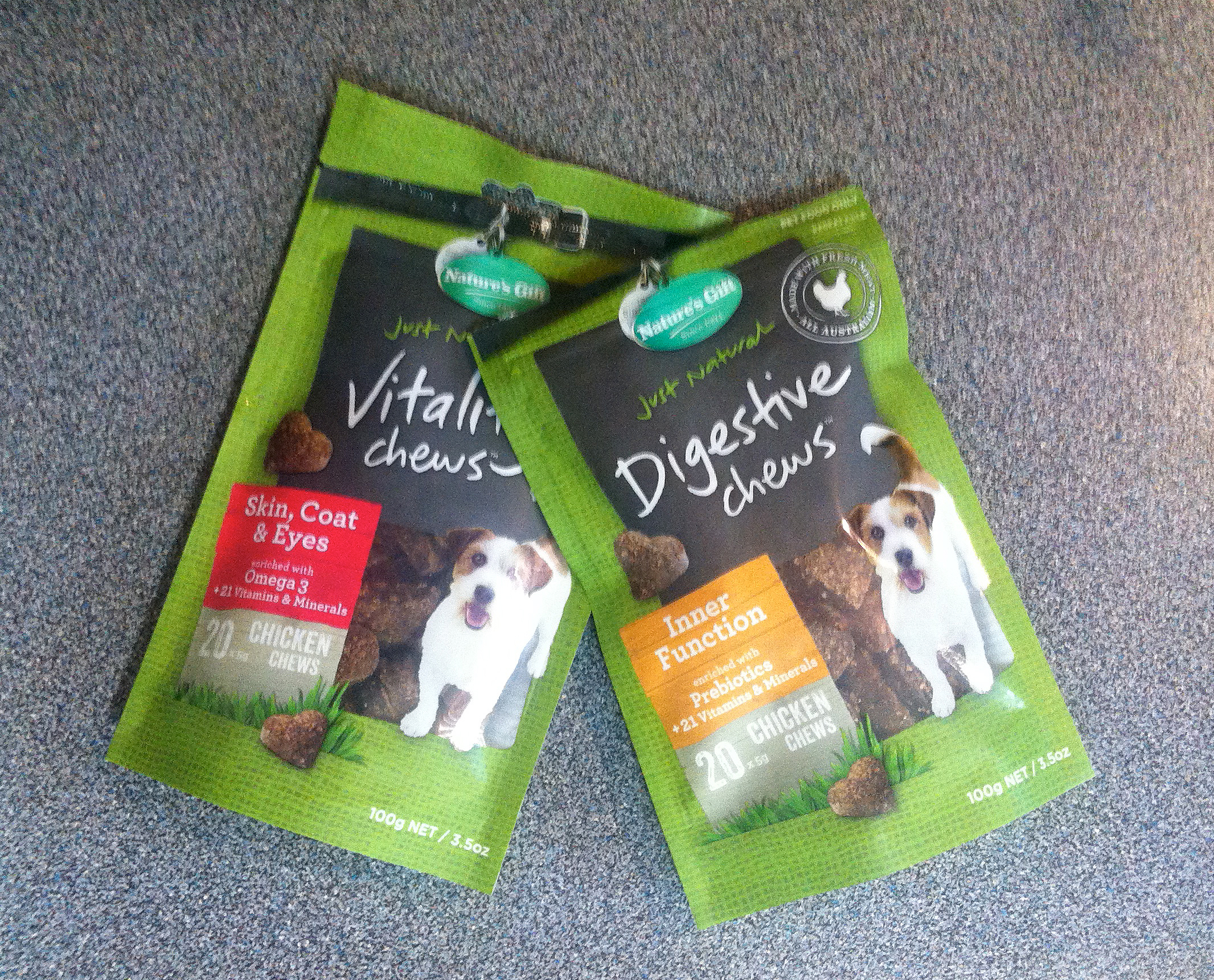 In our current climate, avoiding treats manufactured abroad is important – and so it's reassuring to know that all Nature's Gift products are produced in Victoria, from Australian products, and from human-grade meat products. Also, they don't use palm oil in any of their products. So not only am I satisfied that this product is safe for my dogs, but that it is also relatively enviornmentally friendly, too.
Nature's Gift generously sent us two packets of their new 'Chews' range: one of 'Vitality Chews' and one of 'Digestive Chews'. (There is also a 'Joint Chews' variety, but presumably they are more targeted at older dogs and they sent me products most relevant to my 6-years-and-younger household.)
Each packet contains 20 chews. Each chew is hard, crumbly, and love-heart shaped biscuit. They are easily broken in hard, but produce lots of crumbs! They are too large to use as training treats, and their crumbly nature doesn't make them ideal for training treats anyway. They are pretty good at keeping a dog occupied mopping up all those crumbs though.
The novel thing about these treats is that they're formulated to maximise the wellbeing of our pets. For example:
Vitality Chews target skin, coat and eyes, enriched with Omega 3
Digestive Chews target 'inner function', enriched with prebiotics
Joint Chews target joint health and function, with glucosamine (500mg per chew)
It's an easy and (according to my dogs) tasty way to get some extra nutrients into your dogs, especially if you feel your dog needs a 'leg up' in some way. And, if you have trouble providing your dogs with these nutrients in conventional ways (e.g. have a hard time giving your dogs tablets or capsules) then this might be a handy solution.
Now, my dogs are not the best reviewers when it comes to the taste-testing – as in, they eat anything, and this was no exception. However, I was running a 'full house' at the time, and both foster dogs (Bandit and a beagle) and a litter of young puppies all happily sampled this product. (Despite the product not being 'intended' for puppies under 4 months. Oops.)
For those interested in ingredients, the Digestive Chews contain:
Rye Flour, Copra Flour, Fresh Australian Chicken Meat, Sucrose, Emulsifiers & Binders, DHA Omega 3, Prebiotics, Inulin Powder, Beet Pulp, Vitamins & Minerals, Natural Antioxidant & Flavour.
And the Vitality Chews have the following ingredients:
Rye Flour, Fish Meal, Flax Seed Flour, Soya Flour, Emulsifiers & Binders, Fresh Australian Chicken Meat, DHA Omega 3, Vitamins & Minerals, Natural Antioxidant & Flavour.
You will notice that neither of these chews contain red meat, which may be important for dogs with sensitivity.
The recommendations are for up to 4 chews a day, depending on the size of the dog. That means if you have a large dog, you might be looking at going through one packet every 5 days. If you have a little dog, under 5kgs, though, the recommendation is one chew a day. Because of the fortified nature of these chews, I would be inclined to stick to these recommendations.
These treats were certainly palatable, and I would  recommend that others 'give them a go' in situations where they think their dogs are lacking particular nutrients. While my dogs are fit and well, and weren't given these on a regular basis, I cannot vouch for their effectiveness in helping the conditions that they claim too – but I certainly don't think that they'd hurt!
I am likely to purchase the 'Vitality Chews' in the future following dogs being on a course of antibiotics.
Nature's Gift Natural Chews are available in Woolworths and other supermarkets.
Disclaimer: This product was provided free of charge, though this review contains my own thoughts.