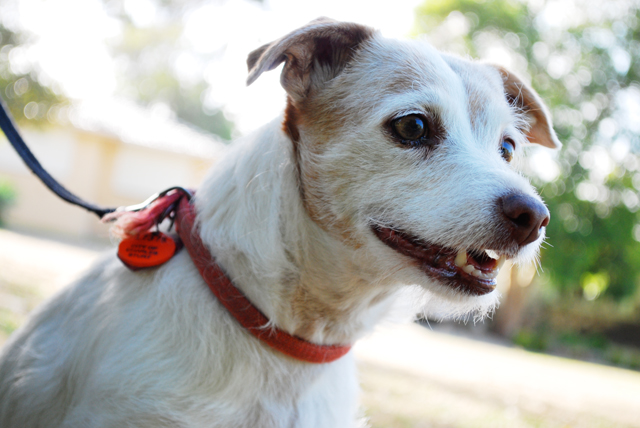 Imagine you've recently taken a 12 year 8 month old dog into your home. She's lazy, mostly moving from bed to bed to sleep. She comes when she's called, goes out when she's asked, and gets heaps excited about food. Happy and sociable with people and dogs. A joy to live with.
I hope, in doing so, you can forgive my negligence as a guest arrived. As Cindy nipped through the open door, I naturally assumed that this sociable dog would just say hi to the guest, and follow them inside. However, Cindy started sniffing a plant in the front yard. I called her, and she ignored me, and as I took a step towards her, she dashed away, stopping at the letterbox to continue sniffing. Naively, I assumed that there was just a nice smell around. As I headed towards her again, she gave me a look that could best be described as "Hahaha", and started running, fast, away from me – and towards a busy road.
There was no chance I was going to chase her, as I am very aware that I am not as fast as a dog (they have four legs, I have two, come'n) and I did not want her to get closer to the busy road. Immediately, I thought that I could use Bandit, a dog friend she had made in foster care. If I wasn't good enough to come back to, maybe Bandit would be.
So, hurriedly, I ran inside, threw a lead on Bandit, and took him out. Bandit was perplexed why there was a walk happening, at night, with such little fan-fare, but nonetheless was happy with the arrangement.
As I came out of the house, Cindy was nowhere to be seen. My heart was racing and I was terrified of where she had got to. Immediately, my thoughts were thinking about how she didn't have my tag on, but she did have her surrendering owner's tag on still, and how bad would that look if she was to get called? What if she got hit by a car? What vets are open at this time of night? Do I call the council now? Why is the husband away tonight?
Bandit and I headed towards where I last saw Cindy. Briskly walking, I hear a bush rustle and Cindy emerged. Phew! She hadn't got to the busy road! Cindy then kept running towards the busy road – seemingly Bandit and I disturbed her bush-investigation, and now the running thing was back on. So my Bandit trick failed.
There's no way I could catch Cindy with Bandit in toe, so back I go home, putting Bandit inside.
As I came back out, I hurriedly called a friend from Adelaide All Breed Dog Rescue Inc., "Hi. Can you come help me catch Cindy? She got out."  The friend was on her way. Phew!
So now finding Cindy again. I took a wide berth, on the other side of the road from when I last saw her, with the only intention of cutting her off from heading closer to the main road. Once my friend got there, my plan was that I could then get them to get food in my house, or open up the carport door and we could herd Cindy into the secure area. Regardless, I had decided I couldn't do much more than keep an eye on Cindy for the time being.
My plan mostly worked. She decided to run away from me, back towards my house, and away from the busy road. Excellent. She would stop and snuffle in bushes, and I would stand like a lurker in the half-light in other people's front yards, watching.
If Cindy looked at heading towards the busy road, I'd shuffle into the path to try to prevent her.  This mostly worked. But then there was this one moment, she came towards me (and the busy road), and as I puffed myself up to block her path, she ran faster and within a metre of me. I'm pretty sure I heard her say, "Hahaha, you can't catch me!".
Back to square one, I once again did a big loop to block her off.
My heart was in my throat as I realised she was in the yard of the house on the corner of my street and the busy road. Every car that whizzed by I held my breath.
I could hear her in the bushes, so knew where she was, and I just hoped that when she came out I could  once again drive her back up the street. It was tense.
And the little white dog came out of the bush, and looked at me.  Through my head, a word that rhymed with 'duck' was repeating over and over. She was going to do it again – she was going to run past, in a joy run, straight onto the busy road. Duck duck duck.
But she looked at me for a moment too long, and she wagged her stumpy tail, and seemed to say, "Okay, I'm done now."
Hardly believing my luck, I used my best gravelly voice to firmly say, "Cindy! Stay!" as I reached out my hand…
I'll stop for a moment as I realise I forgot to tell you something about Cindy. All the stuff about her being a joy to own? That's true, except that if she doesn't get her own way, she bites. Cindy bites.
So here I was in the dark, reaching my hand towards a white-shape of a dog that I know bites.
And I was saying to myself, "If she bites, don't let go".
I can still remember that as my hand wrapped around the collar, and I felt my fingers touch my palm. I instantly thought, "I got her!" and then, immediately after, "If she bites, don't let go!".

I took the lead I was carrying around my neck (carrying in anticipation of such a moment), and clipped it onto her collar.
And I think that's when I started breathing again. I became very conscious of the adrenaline pulsing through my body, now that I didn't need it anymore.
That's when my phone buzzed in my pocket, and I saw the headlights up the road of where my friend had pulled up in front of my house. Imperfect timing.
Cindy happily walked on lead back home, wagging her stump and panting heavily from her joy run.
Oh, did I mention: Cindy's available for adoption!
If you are interested in a dog that bites and runs away, Cindy's the dog for you!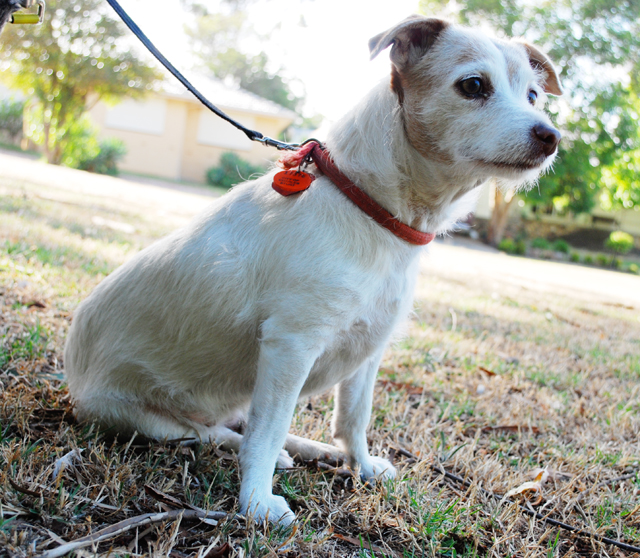 Cindy was surrendered to us because he owner experienced unfortunate circumstances and became homeless. Cindy and the past owner lived in a car together for a few weeks, but it just wasn't working for everyone involved, so the difficult decision was made to surrender her into care.
I was concerned about Cindy's health initially, as she was very quiet. We had full blood works done, and a full body x-ray, and she's in perfect health! Her teeth are in great condition, and it's like Cindy was waiting for the vet to tell her she was A-OK too, because she became a bit of rat bag after that. As the story above shows.
Cindy loves going for walks, and barks angrily at you when you haven't got her lead on or opened the door quite according to her schedule. "Hurry up, human!" Or maybe it's resentment towards being leashed in itself, given her joy in running fast, away from you.
As mentioned, Cindy made a friend in Bandit while she has been in care. Bandit and Cindy are available for adoption either individually or to the same home. They're very different to each other, but instantly took a strong liking to one another. They have an understanding.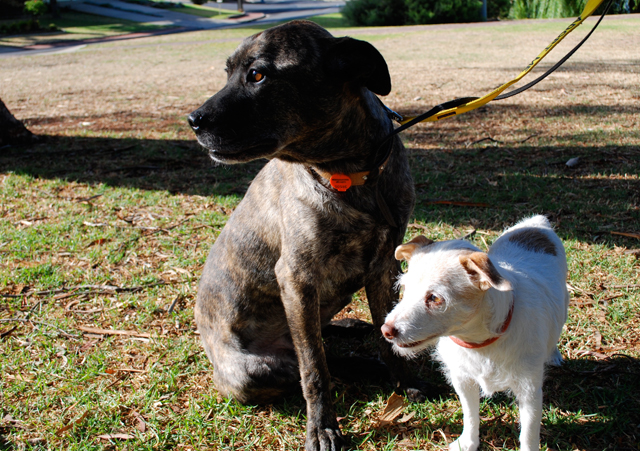 In case you didn't guess, Cindy is all terrier!  She's okay with other dogs, but she's not one for pocket pets, or birds, or cats.
Cindy's ideal home would be an older person or couple who just want to go for a short walk once or twice a day, and want a well behaved companion the rest of the time. Cindy is a nice cuddler, and will hop on your lap for pats – but very much when she wants them. She is independent, and doesn't mind being left alone, especially if being left alone comes with some type of food.
Cindy is now with a foster carer (with instructions: never, ever let her off lead and never leave gates or doors open) and doing well, but we would love to see her in her forever home.
For more details about Cindy and her adoption, see her PetRescue profile.