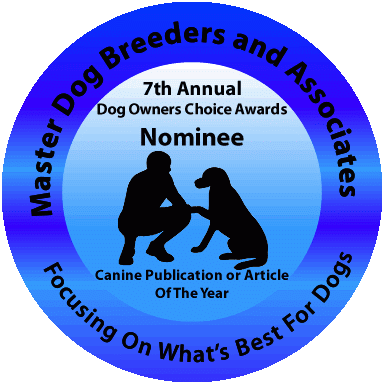 The 'Week in Tweets' is name in the optimism that I will post a Twitter round up on a weekly basis. This sometimes happens, and sometimes (like this time) it doesn't. As such, we have a pretty big tweet list here for you to get through. Maybe get a large coffee to go through this time.
Firstly, though, some bloggy news. I was wrapped when I received a phone call last month from Julie from the Master Dog Breeders and Associates telling me I had been nominated for the MDBA awards. Instantly, I thought of a puppy buyer from my early 2012 litter, and that they may have nominated me. My next though was that maybe one of my rescue dog adoptees had nominated me – that was an exciting prospect to. Then Julie tells me that it was this humble blog! And it was a stranger that made the nomination too. How cool is that! Thank-you so much, stranger. Your nomination means a lot to me.
On with the tweets!
Tweet of the Week
My favourite tweet is a little bit old, but I loved it when I first saw it, and I still love it now. It's a Facebook linky to Fetching Dogs 'How we assign a blend'. I share it a bunch because it's so true. And so well presented. Basically, having a 'guess' at what breed a dog is in rescue is not really useful. Can we get on with talking about how amazing this individual dog is?
Dog Rescue and Sheltering
From Saving Pets: Brisbane – two dogs killed for every one dog adopted.
Foster carer needed for Ziggy.
Bingo small male crossbreed available for adoption (white and fluffy!).
Dog Breeds and Breeding
From Retrieverman: Working golden retriever vs border collie on a problem solving task and The bulldog: What is to be done?.
From Border-Wars: How linebreeding causes disease expression.
100 years of breed 'improvement'.
Dog Health
From Eileen and Dogs: How to give your dog a pill: several methods.
From DogStar Daily: Getting ready for the vets.
From Terrierman: The Billion Dollar Vaccine Scam.
And from Retrieverman again: Where do dewclaws come from?
Dog news
Heroic dog helps save owner after both are struck by speeding car.
Dog tortured, remains returned to owners.
Dog Research (and maybe research not about dogs but still relevant to dogs)
Should you take your dog to the dog park?
New study sheds light on serious to fatal dog bites.
2012 National Pet Obesity Survey Results.
On epigenetics: The epigenetics of fear (from Dog Zombie) and Mice can 'warn' sons, grandsons of dangers via sperm.
Buy Dog Stuff
Name that cookie – dog cookies with dog names on it!
Other Dog Stuff
Regarding my 1,000-year-old dog (very nearly Tweet of the Week).
From Speaking For Spot: Needing to vent.
15 reasons why not to date a vet – an eHarmony rebuttal.
What makes a responsible pet owner?
Cesar Millan Parody – The Idiot Whisperer (video).
Labor of love: Pack a suitcase, pack a kong.
Child competes in ParAgility (video).
Keep your dog safe while driving.
Other Animal Stuff
Brilliant crow makes a sled out of a mayonnaise lid.
Impact and Injuries of a cat hit by a car.
Voiceless lecture series at Tindall Gask Bentley Lawyers, Adelaide.
Did your mom or dad ever employ this parenting trick on you?
Instragram
This is Landy, our new dog! Yes, for keeps!
Getting the hang of this couch business.