Puppy biting and mouthing is a natural and normal way for puppies to explore their world. However, using their mouths on people is inappropriate, and something we need to train puppies out of. This especially important for households with young children.
Puppy biting is an issue that needs to be addressed through training. It cannot be left and hope the puppy 'grows out of it'.  You need to provide training and guidance.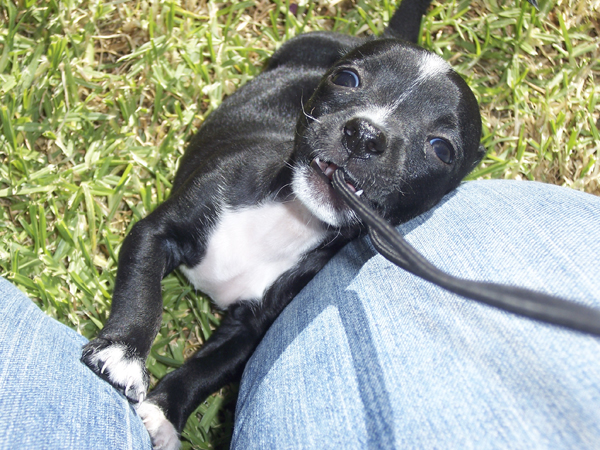 Here's a few pointers to help you begin to decrease mouthing behaviour in your puppy and train appropriate interactions for adulthood.
Check YOUR Behaviour
Sometimes subconsciously, we often encourage puppies to bite by being exciting.  Children are particularly prone to doing this, by waving their hands about and making high pitched noises. However, adults do this on a mild level too – for example, being patted on the head is moderately-exciting and can elicit biting in a puppy. This also extends to making sounds – screaming and sometimes even talking can encourage mouthing.
The first step in discouraging mouthing behaviour is to moderate your own behaviour to stop eliciting biting responses from puppies. Puppies rarely mouth things that are still or that are quiet. Avoiding 'jerking' motions and lowering volume and pitch can help to deter puppy mouthing, which can prevent the puppy forming a mouthing habit.
Provide Mouthing Outlets
Because puppies naturally enjoy mouthing, puppies should have plenty of outlets for mouthing, like toys. They DO need to use their mouths, we are just trying to deter them using mouths on you. I find puppies that have access to a dog to play with often do not bite people as much, just because they've already done all the fun biting games with their doggy friends, rather than people.
High Pitched Yelp
This is my absolute favourite method for stopping puppy mouthing. I find it very effective for puppies.  In this method, if the puppy mouths you, you issue a high-pitched yelp noise.  The idea is that this noise replicates the sound other-puppies would make when injured, and your almost 'talking dog' to your puppy, and explaining to them that their actions hurt you. Eventually, your puppy will hopefully realise that you're a big wuss and seek to play games that don't hurt you.
Victoria Stilwell illustrates this well:
Toy Substitution Method
Another method you can try is, whenever a puppy mouths you, to provide a toy instead for them to bite.  The idea is that the puppy will learn that toys are appropriate to mouth in lieu of biting people.  Unfortunately, this is somewhat difficult to implement.  You have to carry a toy around with you all the time, and there's also the potential for you to be rewarding the dog for mouthing you by providing a toy. However, it is still a method you can try in reducing puppy mouthing.
The Punishment of Being Ignored
You can try disengaging or removing attention from the puppy when they mouth. This means that, if the puppy begins mouthing you remove your hands and stop paying attention to the puppy. This is not successful for puppies who will chew on everything! So, it's all well and good to remove your hands and some puppies will stop – but if they continue by chewing your pants, not so good, and this method won't work for you! For a puppy that is highly attentive to hands and hand-focussed, removing all hands can be significantly punishing to curb the behaviour.
Time-Out for Biting
You can try sin binning the puppy for mouthing. This is a hard method to implement effectively, but it involves removing the puppy from your company. This must be done quickly and calmly, and a neutral and boring place must be used (like the bathroom). You cannot us a place like the puppy's crate or outside, where you want the puppy to have positive associations. I have had limited success with this method, but, at the very least, it makes me feel better! (And sometimes it's important to give yourself a break like this.)
Physical Punishment for Biting
I only use this method for puppies that have persistently bitten despite the implementation of all other methods. That is, this is the 'last effort' method. For this approach, each time that the puppy mouths your hand, you are then going to use your hand to make the mouthing experience unpleasant for the puppy, and hopefully the puppy will cease mouth.  So, if the puppy mouths you, you can press your fingers further into the puppy's throat (bad feeling for puppy), or you can grab the puppy's tongue.  You're not actually trying to hurt the puppy here, you are just making the mouthing experience unpleasant enough that they'll stop mouthing.  I have found this method to be quite successful, but I prefer to use other methods first, as it's not something I enjoy doing.
Put Your Problem on Cue!
In Ian Dunbar style, you can 'put your problem on cue'.  You can teach an 'on' and 'off' for mouthing.  That is, I teach my puppies that when I say 'vicious' they are allowed to mouth me, and when I say 'settle' they must stop.  There is some debate around the appropriacy of this method, and whether it's desirable to train a dog to mouth you on cue. Personally, I've never had an issue with dogs biting people as a result of this method.  Indeed, this actually seems to inhibit inappropriate mouthing because the puppy learns that when I say 'vicious' they get rewarded for mouthing, and that there's 'no point' mouthing at other times because it's fruitless (i.e. the mouthing behaviour is put on stimulus control).  Because you are also teaching 'settle', this means that if your puppy does start to mouth at inappropriate times, you can use 'settle' to halt the behaviour.  Furthermore, it provides puppies with an outlet for mouthing, which is important (as previously mentioned).  Another benefit is that the 'vicious' cue can be a reward in itself, and you can use it to reward desirable behaviour in the future (even when you don't have food or toys on you).  Personally, I see more positives to this method than downfalls.
Using Clicker Training to Reward Non-Biting Behaviour
This is a slightly more complex method, but still highly effective. You'd use a clicker to mark what you do want the puppy to do (i.e. not mouth!) and reward the dog for doing so. You then slowly build up the level of excitement you exhibit and teach the puppy to not-mouth at each level. Here's a video that shows you this process.
You can use a combination of these methods, but you may be best to pick one and be consistent in that method for a week before changing. It's important that all members of the household are schooled in your chosen methodology, and adhere to it.
Hopefully it won't be too long before you have a puppy that is not biting and grows into an enjoyable dog for your household.
Other Resources
If you've added a new puppy to your household recently, you may be interested in our list of resources for new puppy owners.