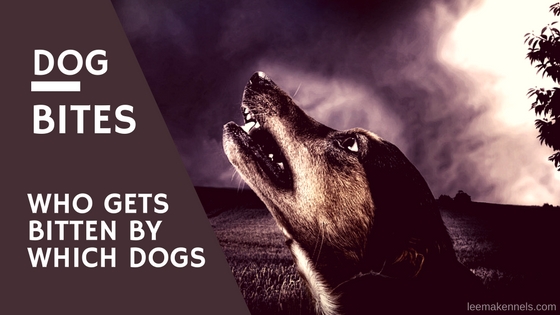 Dog bites are one of my niche areas of interest, so I when I came across this 2008 bite study, I was keen to read. The overall objective of this study was to work out the similarities between biting dogs and people injured by them, to be able to understand dog bites in such a way that public health could be influenced.
And dog bites are a bit public health problem. In 1986, dog bites were among the top 12 causes of nonfatal injury in the US. in 2005, an estimated 800 000 dog bites needed medical attention in the US. On average, 18 people die per year in the US as a result of dog bites. The number of reported dog bites is going up each year, suggesting this is a growing problem. (Though, personally, I think the number is probably going up to growing intolerance of dog bites in the community.)
So this study was a retrospective cohort study, looking at data for incidents that occurred in the 2002/2003 financial year in Multonomah County, Oregon. In this study period, 636 dog bites were reported to Animal Control Services, while there were 47, 526 dogs licensed in the county.
What followed was a whole lot of number crunching that I don't entirely understand. From where I'm sitting, it looks like a fair bit of extrapolation went into the figures seen below, but without sampling every single household for dogs and other aspects, I'm not sure if there's a much better way to go about it.
But regardless, onto the results…
The Biters
From this study, dogs were more likely to bite if:
They were of particular types (terrier, working, herding, and nonsporting),
They were sexually intact and male, and
They were purebred.
Instead of using dog breed, they used dog type, to try to avoid problems in identification. (For example, the general public has a hard time determining between a border collie and coolie, but they do know it's some kind of herding dog.) The breeds listed above were more likely to bite than dogs that were sporting breeds, hounds, non-AKC breeds, and toy breeds. This study suggested that the dogs in the 'problematic' groups have instincts they're likely to revert to if left untrained (which doesn't ring true to me for the nonsporting group), and threat they are a 'size and strength' to cause damage (which doesn't seem right considering the size of most terriers).
More intact male dogs bit than any other neuter/sex ratio. This is different to other studies I've reviewed.
It's really perplexing that purebred dogs were more likely to bite in this study. I guess this goes to the breeding practices, but it's curious to think that crossbreed dogs, presumably bred by people who are 'accidental' breeders, end up with less-bitey temperaments. Something for breeders to think about. While these dog factors existed, there was also a range of other elements to a dog bite.
"Factors that determine whether a dog-human interaction will result in a bite are complex and involve characteristics of the dog, the injured person, the owner, and the dog's environment."
The Owners of the Biters
Biting dogs were more likely than nonbiting dogs to live in neighbourhoods where the residents' median incomes were less than the county median income value. If controlling for breed category and controlling for sex, "dogs living in census block groups that had incomes less than the county median were 1.5 times as likely to be reported as a biting dog than reported as a nonbiting dog". When dog owner data was compared to population density, percentage sex by age, percentage nonwhite race, and percentage without high school diploma, there was still not an association with biting. It was correlated just with income!
So what's going on here? What's different in areas were less income? Less money spent on training? On fences? Different attitudes towards child raising? This study suggests that people in these areas may be inclined to select particular breeds (i.e. especially those with reputations for aggressive behaviours). (Though this study didn't look at whether some breeds were more likely to be owned by different groups.) They also suggest that low income areas may socialise their dogs in a different way, and therefore change the bite potential of the dog, or perhaps they're not trained or supervised in a way that minimises dog bite risk.
"In another study examining dog bite injuries in St Louis, Mo, bite injuries occurring in low income areas were attributed to large numbers of children playing outdoors, few homes with adequate fencing, poor dog control, and a high proportion of large-breed dogs owned for protective purposes."
As a personal comment, in my experience, crossbreed large dogs are cheaper than small dogs or purebred dogs. This means low income areas are likely to own bigger dogs, and we know bigger dogs are more likely to have their bites reported. While studies of the past have looked at breed and sex-neuter status, this study reveals a new area for further research: block group income levels.
But there's more: It's not just about the dog and who owns it, but also where the bite took place.
The Place of the Bites
Dog bites occurred:
35.1% of bites happened in the dog's home or yard.
23.4% of bites happened in 'neutral territory'
17% of bites happened in dog/victim household (i.e. the parties lived together)
10.1% of bites happened in household of victim (not dog's place)
7.1% bites unknown place
3.8% at "place of employment" – e.g. vet clinic, rooming facility, MCAC
3.6% "Neighbour's Property" (which could be grouped with the 35.1%)
This reinstates the idea that parents need to be extra vigilant when they are visiting houses with dogs.
Other Statistics
Other tid bits of interest:
Boys and girls aged 5-9 years had highest rate of injury, boys a bit higher (but not significantly so).
Of the 636 biting dogs, 49% had a license number. There are some estimates that less than half of all dogs are registered. (I really wonder what this kind of statistic would look like in Australia.)
36% of dog bite victims didn't know the dog that bit them. (The largest portion.)
But: Among children, 46% were bitten by the family dog.
More dog bites in summer months.
No significant difference between male and females being bitten.
Limitations
Like all studies, there are a number of problems. In this study, the results are limited by.
Not all dog bites will be reported. Dog bites are a reportable incident in Oregon, but the records are incomplete. There's a problem with recording of dog bites. A previous study, referenced in this one, suggested that only 17% of bites are reported to any authority. (And while this may be the case, how else should we be analysing dog bites except through dog bite records? This model is probably the best we have.)
We know members of the public are not very good at reporting dog bites by breeds.
Dog license data can only be used as an estimate of breed-populations – especially because we know perhaps only half of all dogs are registered. Further, if owners of some breeds are less likely to license their dogs, the breed specific bite rates are further skewed.
When a large-breed bites, that bite is more likely to be reported and more likely to need medical care, meaning that there is a reporting bias that can increase the number of these dogs seemingly involved in incidents.
Conclusion
This study made recommendations for reducing dog bites:
Combined approaches from human medical communities, veterinary communities, and animal control to help foster healthy relationships between people and pets.
Focus on low income neighbourhoods.
Paediatricians to counsel parents (dog owning and not) on dog safety during routine medical visits.
Low cost spay neuter.
Education programs (perhaps through animal control).
"Innate tendencies dictated by breed, sex-neuter status, and size play a role in the potential of a dog to bite, but owners are ultimately responsible for their dogs' action[,]… and need to make every effort to minimisze their dogs' bite potential through obedience training; neutering; and supervision, especially around children."
Source:
Shuler, CM, DeBess, EE, Lapidus, JA, and Hedberg, K 2008, "Canine and human factors related to dog bite injuries", JAVMA, vol 232, no 4.