My mum gave me a book: A Dog's Purpose by W. Bruce Cameron.. This is not unusual – she often purchases books from op shops and, if she thinks they're to my tastes, she hands them to me and says "I don't want it back".
But this book was different: My mum handed it to me with the instructions, "If you read it and you like it, you can keep it. If you don't want it anymore, give it back!"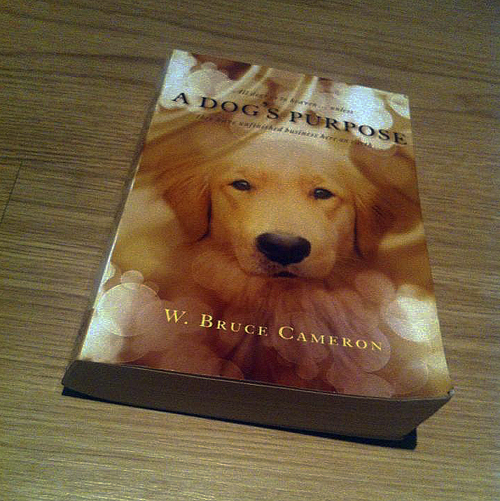 I can understand why. This book was very enjoyable to read, and I would recommend it to any dog lover (or even a mild dog liker).
I think this book would be easy to spoil if too much was said.  All I will say is that it's about the soul of a dog who is reincarnated into many different dog bodies, each adding to his understanding of his purpose.
It's simply written and could be enjoyed at all levels – but the older you are, the more this book will make you reconsider the relationship you have with your dogs. Are you allowing your dogs to fulfill their purpose?
And then, for yourself, you may begin to consider your own purpose, and how it compares to a dog.
A thought provoking book, with sprinklings of funny, and really charming (fictional) insights into 'how a dog thinks'. If you have the chance to read this book, take it! You won't regret it.
Further reading: A review by PupLove and another by Dog Spelled Forward.