There is some confusion on what 'with papers' and 'registered breeder' means, and this confusion adds to the complexity of looking for a breeder and a puppy. This is a brief post that explains what 'papers' are  and a 'registered breeder' is, to ensure that you don't find yourself ripped off in your puppy purchase.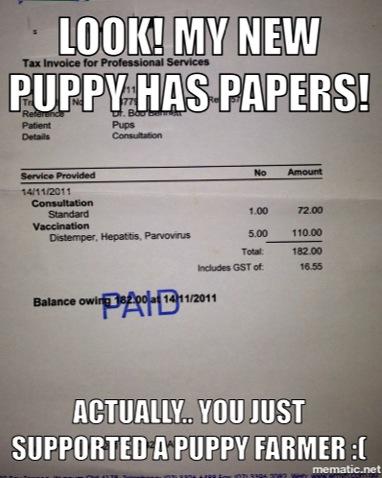 What are 'papers'?
When you say, 'a purebred puppy with papers', then the ANKC (Australian National Kennel Council) pedigree papers is what 'the papers' bit is.
It's also a good idea, when purchasing a puppy, to look for other documentation, such as:
A vaccination certificate
A microchipping certificate
A vet check certificate or similar (keep in mind that vaccines can only be administered to healthy animals, so if the puppy is vaccinated, s/he should've been 'healthy' at the time of vaccination)
Any relevant health testing paperwork for parents and puppy (this will depend on the breed)
What is a 'registered' breeder?
When people refer to a 'registered' breeder, they are referring to a breeder which is registered with an ANKC member body (such as Dogs SA, Dogs Victoria, and so forth). A registered breeder should be able to show a membership card with their name, their prefix, and a membership number on it.
Some people call themselves a 'registered breeder' because they are registered with the council.  While many councils require breeders to be registered with them, it is not any type of endorsement for the welfare of the animals that are maintained or bred at the facility.
How do I find a puppy with papers from a registered breeder?
If you are looking for a purebred puppy from a registered breeder, then your best bet is to contact your ANKC body to ask for a breeder list.  DogzOnline also maintains a list of ANKC registered breeders (though not all breeders are listed on their site).
If you are an international reader (outside of Australia), then you will have to try to find your national kennel club.  The USA has the AKC and the UK has The Kennel Club.
Further reading:
Tips for Contacting a Dog Breeder