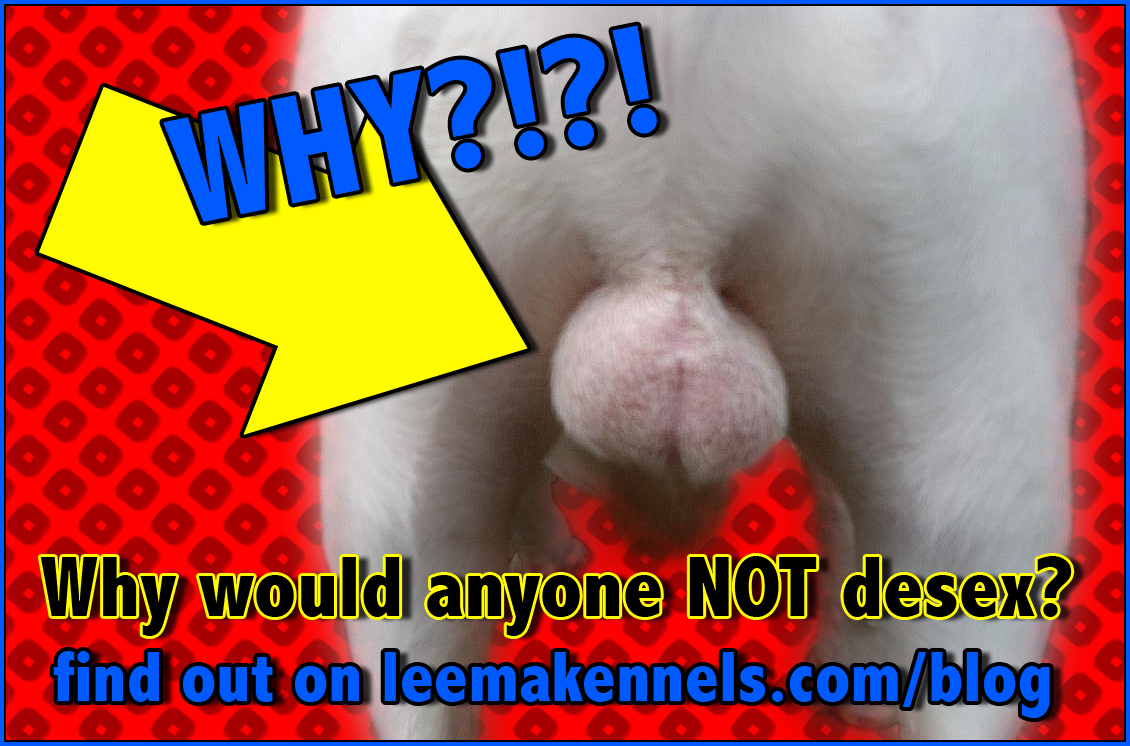 Desexing advocates seem to minimise the many real reasons that people choose to keep their dogs entire. In Australia, New Zealand, the UK, and the USA, at some other countries, desexing (spay and neuter) is the default, and anyone who chooses for their dog to not undergo the surgery is treated with suspicion.
However, there are a number of reasons that people choose to keep their dogs entire. Here are some of them.
The question is: Why is your dog entire?
They want their dog to physically and mentally mature before desexing.
It is well documented that desexing dogs early can cause them to grow taller and leaner. While for many people this is not a problem, others particularly want their dog to develop 'the way nature intended', especially if the dog will be partaking in strenuous sports like agility. Others want their dog to mentally mature before desexing, too. In this case, "My dog is entire to ensure that it naturally matures."
They want their dog to look or act like their given breed.
On a similar note, it is well know that desexing causes dogs to know only grow taller (in the case of early aged desexing) but, in all desexing, it is common for the coat to change texture and not 'blow' as normal. Quite simply, while you may purchase a purebred, desexing may cause the dog to look dissimilar to the breed your purchased.  The answer may be, "My dog is entire because I want my dog to look and act like the breed I purchased" and "My dog is entire because I don't want it to grow tall (i.e. I want a small dog)".
There are risk factors associated with desexed dogs that they are not prepared to risk.
They are aware of the health conditions associated with desexed dogs, and some owners may choose to minimise the risks of these health conditions by keeping their dogs entire.  These risks include an increased incidence of cranial cruciate ligament tears, and the risk of cancer.  They could say, "My dog is entire because I believe it is in their best interests, for health reasons, for them to remain entire."
They want their dogs to act like its appropriate sex.
They like a dog who acts like their sex, which is mostly controlled as hormones.  This is best expressed as, "My dog is entire because I want it to act like a dog or act like a bitch".
They feel the risks of desexing surgery is too great.
They are concerned about the risks of anaesthetic, especially if their pet already has health conditions (e.g. heart conditions).  These owners could say, "My dog is entire because the risks of anaesthetic are too great".
They compete in dog shows in which their dog is required to be entire.
While many dog shows in Australia have a neuter class, they are not competitive, and only have one title awarded after 100 points.  This is, the neuter classes in Australian dog shows are not highly competitive. It would make sense for owners to justify keeping their dogs entire by saying, "My dog is entire because I enjoy participating in a competitive way in dog shows".
They don't believe their is anything wrong with their dog in current form.
Why fix what isn't broken? Many dog owners are happy with their dog behaviourally and/or phyiscally and don't want to change it. Indeed, they are scared that desexing may change their pet's temperament. They could say, "My dog is entire because I see no reason to desex them – I like them just the way they are".
They want to have the option to breed from their pet one day.
Before becoming alarmed (Oh no! Breeders!), I am referring to ethical ways in which breeders seek to ensure they only breed from the 'best dogs' and preserve genetic diversity.  For example, many breeders run on several dogs from one litter, to give them time to determine 'the best one'.  Some breeders (like myself) may choose to put males out on terms that require them to remain entire, so I can collect semen from them and store it to preserve genetic diversity.  Some people also keep dogs entire as insurance – again, in my case, my bitch Clover is still entire just in case something happens to her progeny and so I'm therefore left without anything to go on with. So, people may be able to say, "My dog is entire because I am committed to ensuring only the best dogs are bred from, while also having a committing to preserving genetic diversity within the breed".
They can't afford to desex!
This is a big one! Many people want to desex their pets, but they do not have the finances to do so. Statistics from groups like Downtown Dog Rescue show that poverty is a big problem when it comes to many matters concerning pet ownership, including desexing.  If you asked these people, "Why is your dog entire?" the answer would probably be "My dog is entire because I do not have enough income to pay for rent, groceries, medications, and to also pay for surgery for my dog".
They believe it is cruel to desex.
Desexing is a medical procedure that certainly causes short term suffering for an animal, and has some long term health implications. Many believe that desexing is a superficial procedure, mostly performed in order to make pets easier to 'control' (presumably).  How ethical is it to maim an animal for personal convenience? These people could say, "My dogs are entire because I believe desexing is cruel."
The law doesn't allow them to desex.
This is real. In Norway, desexing is illegal except in extenuating medical circumstances. Routine desexing is outlawed. "My dog is entire because it's illegal to desex them."
They chose alternative contraceptive options for their dog.
Just because a dog appears to be entire (like the lovely bull terrier illustrated above), that does not mean that they are actually able to reproduce.  Dog owners may choose to have a vasectomy, a tubal ligation, or use a contraceptive like the Superlorin. In this way, "My dog is entire because I have chosen a form of sterilisation (temporary or permanent) that not a gonadectomy".
Unfortunately, we have set desexing as 'the norm' for companion animals. People take their pets into their vet for their first consult, and they vaccinate, microchip, and book them in for desexing.
While there may be many reasons that people choose to desex their pets, these are readily and openly discussed. This post aims to produce an alternative dialogue and provide legitimacy to the practice of keeping pets entire.